THE EDIFIER
CARMAN, MAKING HIS MARK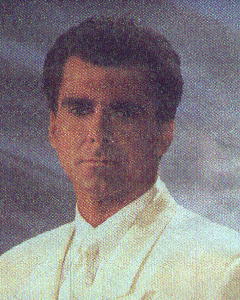 Our mission statement at THE EDIFIER is building up the Body of Christ in love. We honor you Carman because your life and ministry testify of brotherly love.This is my commandment, that ye love one another, as I have loved you. Greater love hath no man than this, that a man lay down his life for his friends. ( John 15:12,13 KJV) You are a role model to generations young and old who receive strength and courage through the messages of your songs. We see how much your heart moves to protect, to instruct, to defend, and to provide security for your fellow brethren.
Time and time again we've witnessed these qualities in your ministry. We've seen it demonstrated in your desire to restore prayer in public schools. You want youth to go to school in a protected and secure environment not hindered by threats of violence and drugs. You have powerfully used your platform as a christian artist to motivate a generation of youth to defend their God-given rights as Christians and Americans. Inspite of naysayers who didn't support your stand, one million people signed their name on your petition publicly declaring that God belongs back in the schools. Carman, you have made your mark.
Your compassion for youth and desire to equip them spiritually extends even to young children. Jesus said, Let the little children come to me, and do not hinder them, for the kingdom of heaven belongs to such a these. (Matthew 19:14 NIV) At no other time in our history have children been so vulnerable to satanic attacks displayed in acts such as abortion, child abuse, child pornography and child abductions. Your latest video titled No Monsters off the R.I.O.T. album powerfully instructs children in spiritual warfare, teaching them how to counter satanic attacks. Critics have attacked your theology here moving to diminish its influence. But your messages of good conquering evil prevail as classics such as Sunday's On The Way and The Champion continue to enjoy broad appeal. Carman, you have made your mark.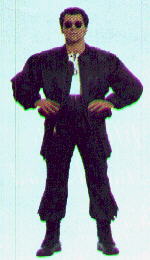 R.I.O.T. may be the title of your new album but it also aptly describes your passion for righteousness. Carman, you are causing a R.I.O.T., a Righteous Invasion of Truth in the christian music industry. Your reaction to unholiness motivates you to take a stand for Christ even when it's unpopular. This has left you vulnerable to accusations and attempts to discredit your character and ministry. Inspite of skeptics, you have a place in the hearts of many who receive Christ's love through your ministry. Anyone who receives a prophet because he is a prophet will receive a prophet's reward, and anyone who receives a righteous man because he is a righteous man will receive a righteous man's reward. (Matthew 10:41 NIV) Do not touch my anointed ones; do my prophet's no harm. (1 Chronicles 16:22) .....I am the voice on one calling in the desert, 'Make straight the way for the Lord.' (John 1:23 NIV)
Your cry for holiness is being heard.....in the concert halls.....in the music industry.....in the media.....and even on the Internet. Cry aloud, spare not, lift up thy voice like a trumpet, and shew my people their transgression, and the house of Jacob their sins. (Isaiah 58:1 KJV) You stood for holiness at the Louisville, Kentucky Joy Jam music festival last summer--charging concert promoters of christian events to be more professional. You stood for holiness on behalf of christian artist Sandi Patti--charging journalists of christian media not to use their reporting to do character assassinations. Wherefore lift up the hands which hang down, and the feeble knees; And make straight paths for your feet, lest that which is lame be turned out of the way; but let it rather be healed. (Hebrews 12:12,13 KJV) You continue to stand for holiness as you charge christian musicians to honor and glorify God in their music and not to water it down for the sake of mammon. Carman, you are making your mark.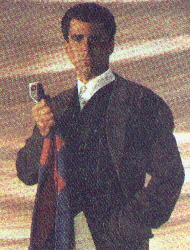 Carman you have raised a standard on singleness. You are an example to singles, motivating them to turn their passion to God's work and wait on Him for a mate. According to scripture you have fulfilled the Apostle Paul's charge to single to people: I would like you to be free from concern. An unmarried man is concerned about the Lord's affairs-how he can please the Lord. (1 Corinthians 7:32 NIV) .....An unmarried woman or virgin is concerned about the Lord's affairs: Her aim is to be devoted to the Lord in both body and spirit. (1 Corinthians 7:34 NIV) Your are honest in your desire to marry and open about your struggles as a single person which is a testimony of your hope in God. Inspite of constant questioning and scrutiny of your status, you have stood firm by devoting yourself fully to ministry. Carman, you are making your mark.
So God created man in his own image, in the image of God he created him; male and female he created them. (Genesis 1:27 NIV) A man ought not to cover his head, since he is the image and glory of God.... (1 Corinthians 11:7 NIV) The Hebrew word for male means to make a mark, a remembrance. The male does this by influencing his world for God. Carman your marks are evident in everything you do. You have influenced generations young and old to be reconciled to their creator. Songs you wrote over a decade ago are now classics still influencing hungry hearts of today. Carman, you are making your mark.
DISCOGRAPHY

1982 Some O Dat
1983 Sunday's On The Way
1984 Comin' On Strong
1985 The Champion
1986 A Long Time Ago...In A Land Called Bethlehem
1988 Radically Saved
1991 Addicted to Jesus
1993 The Absolute Best
1993 The Standard
1995 R.I.O.T. Righteous Invasion Of Truth

Author, Johanne Jean-Jacques, 1996
jewelsjj@earthlink.net

*This is an article in THE EDIFIER magazine, it is not Carman's website. To e-mail Carman, go to his website Carman*
---
Back To The Table Of Contents
---
FOR THE EDIFYING OF THE BODY OF CHRIST EPHESIANS 4:12c
---
efi7jld@gmail.com
&copy 1996, The Elijah Fellowship International
Updated: May 23, 2011
Created: 3/1/96