THE EDIFIER
RIQ, RICK, RIKK, RHIC, RICKE: MAKING OF THE MAN
Legacy of The Man
A good man leaveth an inheritance to his children's children..... (Proverbs 13:22, KJV)

Rick Florian grew up in rural northern Indiana from hardworking country stock. 'A very lovingly, boring place to grow up. And I'm quite thankful for it,' Rick reminiscences. I've been to L.A...... I'd live in rural northern Indiana in a heartbeat before I'd live in Los Angeles or New York.' Rick shares, 'We lived out south of South Bend in between Plymouth and Walkerton in the middle of nowhere and had ten acres. My dad owned a tool and dye shop about 15 miles from there. We had a 'farm' just in the way of the folks wantin' to have animals for us. It wasn't like an income kind of farm. We'd have some sheep or some pigs.....and we'd eat the pigs,' Rick pauses with a chuckle, 'and had chickens laying eggs. We'd sell eggs down at the road. When I think about it now it's some of my fondest memories of life.'

The Florians provided a nurturing and loving home for Rick, his older brother Dan and younger sister Traci. Because of the isolation rural life could bring, the Florian siblings were basically each others' only playmates. They developed relationships with other children primarily through school and church. 'Me, my brother, and my sister,' Rick explains, 'We didn't have many people our age that lived out there. We're so close now I think because of that; I'm thankful for that as well.'

The Florian family attended a United Methodist Church where they performed hard at their faith.....a simple faith.....a rural faith based on the land, Christian morality, and church participation. Inheriting a love for the land, Rick reflects, 'I'm looking outside at the trees of Tennessee and the hills.....I know until the day I die.....I look at creation and it will constantly remind me of Him in a profound and simple way.'

The heavens declare the glory of God; and the firmament sheweth his handiwork. Day unto day uttereth speech, and night to night sheweth knowledge. There is no speech nor language, where their voice is not heard. Their line is gone out through all the earth, and their words to the end of the world. In them hath He set a tabernacle for the sun, which is as a bridegroom coming out of his chamber, and rejoiceth as a strong man to run a race. (Psalm 19:1-5, KJV)

Rural christianity is a simple faith. It's based on principles of sowing and reaping, doing what's right, and performing christian duty. It's based on being at the church when the church's doors are open and serving in anyway you can in the congregation. The Florians served as members of the church choir with the exception of brother Dan, 'who somehow managed to escape that duty,' Rick recalls fondly. One could say that Rick made his singing debut in the church choir. 'Yeah, I'd sing in the choir at church. I sang pretty well. It was a small country church so anybody that could sing 'happy-like' sang in the choir,' Rick chuckles.

Rick reflects on his christian upbringing: 'You try to be a good person. You do good things. That's kind of what keeps God happy. Even though you know the truth of what Christ did. You can't do enough. It was still pretty much a works of righteousness kind of attitude.' Rick explains, 'Or at least not delving into it; because, one didn't need to or exactly want to.....A general form of apathy in a spiritual sense, being content with little.' Rick is describing a faith that is basic, very matter-of-fact. Although he may have not known it than, his parents provided an introduction to church life which later in his life provided a foundation for the driving focus of the deeper faith he knows today.

From 1980-1984, Rick attended Taylor University, a small christian liberal arts college in Indiana. His parents wouldn't let him go to stunt driving school so instead Rick pursued the academic life. :) He majored in biology because he didn't like anything else. His saving grace was that he liked nature.

'Would you call yourself a serious student?' I prompted.
'No.'
'No?'
'No, unless I was lying', :) he said. 'I had a 3.0 and that was doing next to nothing.'

So what did Rick do when he wasn't studying? I'm sure there are some fun stories and experiences he could tell. But one thing is for sure he avoided behavior which could get him expelled from school. All Taylor students were required to sign a letter of integrity promising to uphold some basic strict principles. 'It wasn't like going out and getting wasted on the weekends or anything,' Rick recalls, 'that was never the situation. It was more of just making sure that you honored God by giving him your focus.'

Life at Taylor was a time of discovery for Rick. It was about discovering christian music. It was about discussions with the guys in the dorms about life, God, careers, and girls. It was about building relationships with people who would have an eternal impact on his life. Rick shares, 'They (people at Taylor) are some of the most godly people I've ever met in my whole life; and some of the most real people that I've ever met. Some I still communicate with today. There's a message on the answering machine at the Whiteheart office here today from a kid who is next door neighbor to a prof....probably the best friend as far as the profs go, that I had there. He's thinking of coming down to Nashville for the summer.' It is instances like these which pull on Rick's heart to give back to Taylor in some way. 'I would one day if it works out..... like to go back and end up doing something at the school. I would love that.' It was also at Taylor that Rick met fellow alumnus and CCM artist Geoff Moore, who was just a year ahead of him. Destiny brought the two together. Eventually Geoff would be the one to lead Rick to Whiteheart.

The turning point for Rick came in 1980 when he made his commitment to Christ while at Taylor. This commitment was not a one time thing but a series of responses to the pull of God on his heart as he pondered what this commitment to God meant. Rick states, 'It's like laying at night in your bed...at 12:00 o'clock and dwelling on Him and wanting to know Him more. It was a series of processes rather than one big boom.' Out of the discussions in the dorms, out of watching other christians perform their faith, out of the environment of the school itself--light came to Rick's heart. It dawned on him that, 'You know what.....I can't do squat to make God happy to the point where I'm gonna be saved. There's was nothing I could do once I realized that.....my hope or joy really just lied in the fact of truly living what I said I believed and what Christ did for me. That's more than sufficient.....that's where freedom comes from.' On his salvation experience, Rick adds humorously, 'That's when (1980) I would say I was confident, before that it just depends on how far the grace of God goes.' :)

Vision of The Man

And he will love thee, and bless thee, and multiply thee..... (Deuteronomy 7:13, KJV)

A man's gift maketh room for him and bringeth him before great men. (Proverbs 18:16 KJV)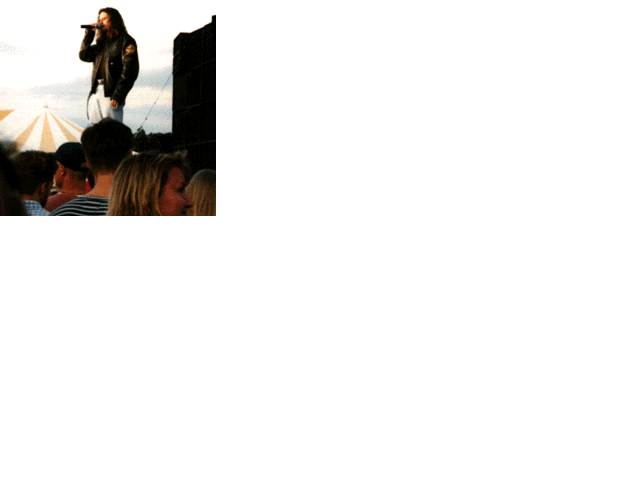 He has many different facets to his personality and heart which makes for interesting paradoxes. He's a talented vocalist and yet he grew up with no music in the house and had no formal music education. He majored in biology and planned to go to graduate school. And yet instead he chose the unpredictable road life of a musician. He loves to rock and yet he's seriously toying with the idea of doing a traditional hymns album. How did he go from being a choir boy in a small rural church in Indiana to a lead singer of a top Christian rock band?
His talent began as a seed. A seed he planted in good soil. A seed that germinated and grew with each step of faith he took. God multiplied that talent. And his vision got clearer and clearer.....
You Can See The World

Did You Ever Dream
Of What You Could Be
More Than A Drop Of Rain
In An Endless Sea

Time To Sail The Winds
Discover New Lands
Climb Beyond The Place You've Always Been

Words and Music by Mark Gersmehl and Billy Smiley
At Taylor, Rick entered a talent/variety show with a friend. This decision set him up to be spotted by fellow Taylor student Geoff Moore. Moore detected the talent and approached Rick about a gig he was doing with his band. Rick explains, 'Myself and another guy from the floor sang a duet--it was a Steve Archer tune. Geoff was there and saw it and ask me to sing background vocals for one little gig he was doing at a YFC (Youth For Christ) rockin' thing and so I did that. It kind of gave me the bug a little.'
After being out of school for awhile, Rick made the decision to move to Nashville--yet another step of faith towards his future. 'Geoff had moved down there and I had some friends that were doing somethings in contemporary Christian music. By that point I was really loving contemporary Christian music. I had never been west of Illinois and I wanted to see if maybe I could get out on road with somebody just to goof off for a couple years, before I went back to graduate school.' The door opened for Rick and he ended up driving a truck for Michael W. Smith in the summer of 1985. After the tour ended the doors continued to open. Geoff Moore, who was friends with Billy Smiley in Whiteheart, gave Rick the tip that Whiteheart was looking for a stage manager. The decision to explore this opportunity changed the direction of his entire future. 'I interviewed for the stage manager job and got it. Than the lead singer had to leave after the fall of '85. They held auditions, and haven't asked me to quit yet', he quips humorously. Rick officially became the lead singer of Whiteheart and the rest is history: 'I think if I had planned it, it wouldn't have happened. For whatever way God worked in that, I'm not even going to guess.' The steps of a good man are ordered by the Lord: and he delighteth in his way. (Psalm 37:23 KJV)
Answer The Call

Call It Inspiration, Call it Revelation
Call It Anything At All
But Burning Deep In You
Is Something You Have Gotta Do
So Answer, Answer The Call

Words and Music by Mark Gersmehl and Billy Smiley
The dedication that Rick demonstrates toward his craft is evident as he faithfully broadens his talents, using them to bless people. He has an innate ability to relate to people and uses that ability to occasionally speak at seminars, on topics primarily about the Christian music industry. 'A lot of people don't have an opportunity to have one on one conversation about what our industry is about,' Rick explains. 'I'm not like the shell-answer man. But I'm gonna be more than somebody in their community that doesn't have direct involvement.'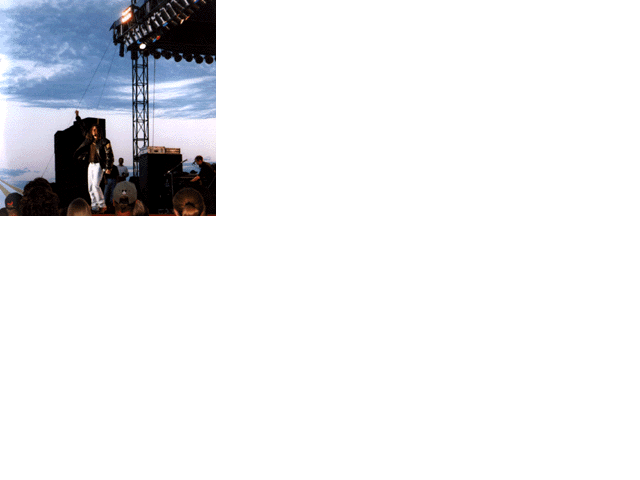 Over the years, he's taken the opportunity to hone his songwriting abilities with Whiteheart. Rick, who is the proud papa of three boys, just simply has a love for children. He is currently lending his songwriting talents to bless children these days. He's co-writing several tunes for the second book of a children's audio and book series. The stories have a moral-oriented theme and center around the adventures of a greentree frog name Flumpa.
Other outside projects may include a solo project outside of Whiteheart. He admires the great hymn writers like Charles Wesley. He would love to do a traditional hymns album 'for heart and spiritual reasons.' Rick shares, 'I'm just captivated by hymns. I've done very little praise and worship music in my life. As far as being involved in a church though, I'm seeking it out a lot more. It's almost like it's seeking me out.....' For Whiteheart fans who are diehard rockers don't despair for this man's heart is about reaching out to all kinds of people God sends.
O For A Thousand Tongues

My Gracious Master And My God
Assist Me To Proclaim
To Spread Thro' All The Earth Abroad
The Honors Of Thy Name. Amen.

Charles Wesley and Charles G. Glaser
One of Rick's musical influences is artist Dan Fogelberg. The esteem he gives to Fogelberg seems to reveal what Rick the artist is all about. 'But till this day Dan Fogelberg is still one of my top favorite artists, especially his old stuff. He was just passionate. He was vulnerable. He made the lyrics and the music weld together in a way that.....you know.....it worked just wonderfully.'
Out of his heart, this man sings with grace, passion and vulnerability. Rick's on stage persona illustrates perfectly the marriage between singer and lyrics. Those with a hungry and receiving heart will feast from the passion readily available from his heart. Because that is what he is releasing everytime he interprets a song. The gleam in his eye, the mischievous grin, the playful gestures, and the energy-packed-acrobatic dances are all invitations to music lovers to allow the words to coat their hearts. Rick says, 'The most important thing, when I'm out there, is that--I am as close to God as I can get, because the things I say and do are going to be more from Him than from me. As simple as that sounds it can be profound thing when it happens more than not.' Rick continues, 'I believe God made art forms inherently attractive. You can have positive and negative affects depending on what you're trying to get across. It's a pretty powerful thing when there's a lot of sincerity about it.'
Author, Johanne Jean-Jacques
January 24, 1997
jewelsjj@earthlink.net
Photographs taken from the official Whiteheart website
---
Back To The Table Of Contents
---
FOR THE EDIFYING OF THE BODY OF CHRIST EPHESIANS 4:12c
---
efi7jld@gmail.com
&copy 1997, The Elijah Fellowship International
Updated: May 23, 2011
Created: 1/24/96