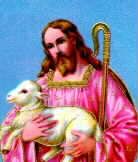 IN HIS IMAGE -
DESIGN - JOHN
Isaiah 58
---
Show my people their transgression, and the house of Jacob their sins. vs. 1c



Do not depress reactions to sin.



Do not disengage the soul.


Disengagement is hiding.


Disengagement causes depression.


Disengagement prevents life in the spirit from rejuvenating the body.



Motivated to '*reprove the world of sin because people believe not on Jesus.' (John 16:8)



Johns "tag" every reaction as sin; in other words Johns are sin conscience.


Isaiah 11:3a,4c, - And He shall make him of quick understanding in the fear of the Lord:..And he shall smite the earth with the rod of his mouth and with the breath of his lips shall he slay the wicked.



Motivated to 'reveal what is hidden (darkness) and to bring things to light.' (Hebrews 4:13)



Jesus is the light of the world.


Light overcomes darkness.



Reacts to hidden attitudes - not outward actions or words.


Called to divide soul and spirit. (Hebrews 4:12)



Soul - carnal, flesh - Tree of the Knowledge of Good and Evil.


Spirit - Tree of Life.


Choose which one they will eat from.



They take delight in approaching to God. vs. 2c



In His presence is fullness of joy, (Psalm 16:11)



In life John is aglow with joy.



Show His wonderful works that He hath done. (Psalm 78)


Be careful for nothing but in everything by prayer ..let your requests be made known to God. (Phil. 4:6)



Key word - care.


Prayer - 4335 from 4336 - prayer (worship) an oratory. 4336 - to pray to God, ie. worship, supplicate - from 4314 + 2172 - forward wish.



Ye shall not fast as ye do this day, to make your voice to be heard on high. vs. 4c



Given beauty for ashes. (Isaiah 61:3)


Publish salvation (Isaiah 52:7) - grace.


Open the prison to them that are bound. (Isaiah 61:1)


To proclaim the acceptable year of the Lord, day of vengeance of our God. (Isaiah 61:2)



Is it such a *fast that I have chosen?..to spread sackcloth and ashes under him? vs. 5c



Called to nurture and cover others. (John 14)


Show Jesus as nurturing Shepherd. (John 14)


Take Jesus yoke and learn of Him - find rest for their soul.



Matthew 11:29 - Take my yoke and learn of me for I am meek and lowly, and ye shall find rest for your soul.


I Corinthians 1:26d,28,29 - ..not many noble are called;..and the base things of the world, and things which are despised hath God chosen, yea, and the things which are not. to bring to nought things that are: That no flesh should glory in His presence.


Noble - well born, high in rank.



Is not this the fast that I have chosen?..when thou seest the naked, that thou cover him, and that thou hide not thyself from thine own *flesh. vs. 7b,c



Controlled by the soul - comfort zone. (Matthew 4)



Hide in the soul behind belts of vanity - bands of wickedness - aprons of fig leaves. Genesis 3:7


Subject to shame - must learn to laugh at themselves.



Strong emotions.


Effects seen in soul.



Eyes go 'blind' - need to see Jesus more clearly.


Soul becomes dark.



Matthew 6:22,23 - The light of the body is the eye: If therefore thine eye be single, thy whole body shall be full of light. But if thine eye be evil, thy whole body shall be full of darkness. If therefore the light that is in thee be darkness how great is that darkness.



The soul is the 'eye' of the body.


Disengagement of the soul causes it to go dark.



Must see their own wickedness to know what good is.



Vanity of soul.


Choosing life apart from God in the heart.



Easily robbed, stolen from, devalued, and tempted to rob, steal and devalue others.



Will deny others life (what is life to others).


Will uncover others when 'feel' overshadowed.



Tempted to turn stone into bread, live by bread alone. (Luke 4:3,4)



Choose the Tree of the Knowledge Good and Evil - death.


Choose the Tree of Life - life.



The glory of the Lord shall be thy rereward. vs. 8c



Definitions:



Rereward = protection.


Glory, 3519 from 3513, weight, splendor, or copiousness.


Copious = wealth, rich, abundance, opulent; full of thought, information, matter; lavish, profuse, or exuberant in words, style, or expression.



A chosen generation. (II Peter 2:9)



Ephesians 1:44-6 - According as He hath chosen us in Him before the foundation of the world, that we should be holy and without blame before Him in love: Having predestinated us unto the adoption of children by Jesus Christ to Himself, according to the good pleasure of His will, to the praise of the glory of His grace. Wherein He hath made us accepted in the beloved.



Need to know that they are 'chosen' by God.


Need to be overshadowed (covered) by the Lord Jesus Christ. Luke 1:35


Need to know that are loved, special, set a part.


Want people to know that they are special and belong to the family of God.


See the smallest unit - 'the family'.



The fruit 'tree' of goodness. Eph. 5:9



When pure will know what good is - good vs. evil, wickedness.



The way of knowledge. Proverbs 3:20



The Spirit of Knowledge and Fear of God. (Isaiah 11:2)



Knowledge = to know (by seeing).


Fear = to fear, revere, cause to frighten.



Walk not in the counsel of the ungodly. (Psalm 1:1)



Ephesians 5:2 - And walk in love, as Christ also hath loved us, and hath given Himself for us an offering and a sacrifice to God for a sweet-smelling savour.


Must walk to live.



Know commandments and statutes of God. (Psalm 19:8)



Isaiah 33:22b - ..the Lord is our lawgiver.



Keep His commandments. (Psalm 78:7)



Keep = guard and protect.



Then shalt thou call, and the Lord shall answer; thou shalt cry, and He shall say, Here I am. If thou take away from the midst of thee..speaking vanity. vs. 9d



Vanity = truth without mercy or grace, becomes true but not truth.



Genesis 3:7 - made aprons of fig leaves.



Apron = girdle, a belt for the waist.


Fig leaves = vanity.



Hide behind the fig leaves - need to hide in Jesus.



Slow to speak. (James 1:19)


Cares of the world choke out the Word. (Matthew 13:22)


Give up and cease worrying, fretting, railing at God. Isaiah 43:6 and Luke 23:39



Railing = to revile, scold in harsh, insolent, or abusive language, berate, tongue-lash, rave against, yell at, vilify, abuse, execrate, load with reproach.



And if thou drawest thy soul to the hungry, and satisfy the afflicted soul, then thou shall be like a watered garden, and like a spring of water, whose waters fail not. vs. 11b



Satan tries to rob or steal but God promises blessings.


Are reduced to ash but God promises beauty. (Isaiah 61:3)



Thou shalt be called, The repairer of the breach, The restorer of paths to dwell in. vs. 12c



The ministry of Truth. (John 14:6)



Must purify the 'true' nuggets into truth - giving pure gold, silver, and gemstones to the builders.


Called to be the keeper of the flame, the guardians of light.


Without the Truth there is no knowing.



Call the Sabbath a delight, the holy of the Lord, honourable. vs. 13c



Honourable - 3513 prim. verb - to be heavy, numerous, rich, to make weighty.


Accept bruising for iniquity. (Isaiah 53)



Bruise = to batter, dent, crumble.


Intercession for self and others.


Lifestyle - broken heart (Psalm 51:17).



Must accept a broken heart.


Giving the pieces away that others may have a place in their heart.


Releasing favor and grace to mankind.



Luke 2:52 - And Jesus increased in wisdom, and stature, and favour with God and man.


Favour = charis - graciousness :- acceptable, joy, pleasure, benefit, grace, thanks.



Are to show man the beauty of Jesus - graciousness in manner, word, and deed.



Afflicted of God. (Isaiah 53)



Afflicted = to depress, to pulverize, to make grey, to be dust.


To destroy 'need to be admired'.


To destroy ability to disengage soul.



Compelled to believe, need to have faith.



Will image what they believe.



Need to know Him as the only way and be faithful.


Submit to Lordship of Jesus.


Need to know are beloved (provided for) by God in order to nurture others.



Learn this by living for Him only.



Honour Him..not speaking thine own words. vs 13f



Give God all the adoration.


Speaking in psalms, hymns, and spiritual songs. (Eph. 5:19)


Teaching and admonishing one another in psalms, hymns, and spiritual songs. (Colosians 3:16b)


Edify others. (I Corinthians 10:23b)



And I will..feed thee with the heritage of Jacob thy father: vs. 14c



Designed to eat.


Live by every Word of God. (Luke 4:3,4)


Meat is to do the will of God that sent thee and finish the work. (John 4:34)


Keep His commandments. (John 14)


In His presence is fullness of joy. (Psalm 16:11)


*Reprove - Basis for John's judgement is..what is good? kind? loving? - horizontal linear judgment.


*Fast - Thongs of yoke, and heavy ladened; every yoke; bands of wickedness...John is under bands of wickedness - Bands of guilt - guilt trip - accept guilt - try to give guilt to others.


*Flesh - What do we mean? John views all faults, crookedness as flesh.


Bruised - to crumble, beat to pieces, batter, nag.


Iniquity - perversity, evil, fault, crookedness.


John reproves for sin, He reacts to attitudes and knows when something is hidden and not good; recognizes when people are not listening/seeing the truth.


He is motivated by likes and dislikes, wanting things around him to reflect beauty, order - needs to be motivated by nurture.


He is moved to control situations not people and feels valued when everything effecting him is peaceful and all needs are supplied.


He is to be affectionate, friendly, caring, and nurturing. Wants everyone to be happy. He likes to be happy, up, joyful and enthusiastic.


He enjoys humor, laughing, jokes and friendly teasing, surprises and play - life.


He does not want anyone to be hurt or not have their needs met - tends to be softhearted, sweet-tempered.


He enjoys learning, books, gaining knowledge - can get lost in resources, references - needs to get lost in Jesus, Himself.


He enjoys people around him, sports and activity, but not engaging heart to heart with people.


He enjoys family - especially children and the freedom they have.


He enjoys music, dance, and dramatic expressions, visions, dreams, and pretending.


He is independent yet he will be molded to others images - anyone else's but Christ's to survive - but must learn to be faithful to Jesus - (living life in and from Him).


He is denied life by himself when is is not faithful to Jesus - when he lives off anything/anyone else but Jesus and he denies everyone around him as well.


He can enjoy isolation if he has creative things to do - likes keeping his hands busy - needs to keep his feet busy doing God's will.


He seeks rest, sleep and quiet times when not experiencing the life of Jesus.


All this he is but he hides so no one can see him, he must let his light shine so people can see the beauty of Jesus.


---
E-mail: efi7jld@gmail.com
---
BACK TO: Perfecting of the Saints; In His Image; EFI; THE EDIFIER
---
For the perfecting of the saints, for the work of the ministry, for the edifying of the body of Christ, Ephesians 4:12
---
&copy 1992, Jacqueline L. Davis
WWW &copy 1999, EFI
Created: 7/9/99
Updated: 5/27/2011