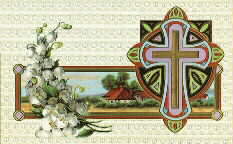 INTERCESSION -
SPIRITUAL WARFARE
THE CALLING OF INTERCESSION
---
God has chosen our purpose before we were born.



Matthew 22:14 - For many are called, but few are chosen.


Romans 8:29 - For those whom He foreknew, He also predestinated to be conformed to the image of His Son, in order that He might be the first born among many brethren.


Romans 9:20,21 - But who are you, a man, to answer back to God? Will what is moulded say to its moulder, *'Why have you made me thus?' Has the potter no right over the clay, to make out of the same lump one vessel for beauty and another for menial use? *Isaiah 45:9



High calling of God requires accountability.



Philippians 3:14 - I press on toward the goal for the prize of the upward call of God in Christ Jesus.


Luke 12:48b - Everyone to whom much is given, of him much is required.


Matthew 25:21 - His master said to him, 'Well done, good and faithful servant; you have been faithful over a little, I will set you over much: enter into the joy of your master.'



Bearing each others burdens.



Galatians 6:2 - Bear one another's burdens and so fulfill the law of Christ.



Bear 941 - bastazo - to lift, lit. or fig., (endure, declare, sustain, receive, etc.) :- bear, carry, take up.


Bear (Vines, page 100,101) - to bear a burden, whether physically, as of the cross (John 19:17), or metaphorically, of sufferings endured of Christ (Luke 14:27), of physical endurance (Matthew 20:12), of sufferings borne on behalf of others (Matthew 8:17; Romans 15:1; Galatians 6:2).


Burden 922 - baros - load, abundance, authority :- burden, (-some), weight.



John 15:13 - Greater love hath no man than this, that a man lay down his life for his friends.


Romans 15:1 - We who are strong ought to bear the infirmities of the weak and not to please ourselves.



Strong 1415 - dunatos - from 1410, powerful or capable; possible :- able, could, (that is) mighty (man), possible, power, strong.



1410 - dunamai - to be able or possible :- be able, can (do, +- not), could, may, might, be possible, be of power.



Infirmities 771 - from 770, a scruple of conscience :- infirmity.



770 from 772 - to be feeble (in any sense) disease, impotent, sick, weak.


772 - strengthless.



Suffering changes us to God's glory.



Philippians 2:12 - Work out your own salvation with fear and trembling.


I Peter 5:10 - And after you have suffered a little while, the God of all grace, who has called you to His eternal glory in Christ, will Himself restore, establish, strengthen, and settle you.


II Timothy 2:12 - If we suffer, we will also reign with Him.


*Philippians 3:10 - That I may know Him and the power of His resurrection, and may share His sufferings, becoming like Him in His death.


II Corinthians 4:17 - For this slight momentary affliction is preparing for us an eternal weight of glory beyond all comparison.



Weight 922 - baros - authority.



I Peter 4:1 - Since therefore Christ suffered in the flesh for us, arm yourselves with the same thought, for whoever has suffered in the flesh has ceased from sin.


Luke 21:10 - By your endurance you will gain your lives.


II Corinthians 3:18 - And we with unveiled face, beholding the glory of the Lord, are being changed into His likeness from one degree of glory to another; for this comes from the Lord who is the Spirit.



Ranks and order.



I Corinthians 12:28 - God is not an author of confusion but peace.



Ranks in angels.



Isaiah 6:2 - Above Him stood the seraphim, each had six wings...


Daniel 10:13 - The Prince of the kingdom of Persia withstood me twenty-one days; but Michael, one of the chief princes,...


I Thessalonians 4:16 - For the Lord Himself will descend from heaven with a cry of command, with the arch-angels call,...



Ranks in Satan's kingdom.



Ephesians 6:12 - For we are not contending against flesh and blood but against principalities, against powers, against rulers of this present darkness, against spiritual hosts of wickedness in the heavenlies.



Ranks in David's army - II Samuel 23:8-39.


Ranks in ministry.



I Corinthians 12:28 - And God has appointed in the church first apostles, second prophets, third teachers,...



Many different parts of the body of Christ.



I Corinthians 12:14,15 - For the body does not consist of one member but of many. If the foot should say, 'because I am not a hand, I do not belong to the body' that would not make it any less part of the body.



Rank determined by Father.



Matthew 20:23 - He said to them, 'You will drink my cup, but to sit at my right hand and my left hand is not mine to give, but it is for those for whom it has been prepared by my Father.'



First must be last.



Matthew 20:27 - And whoever would be first among you must be your slave.


I Corinthians 4:9 - For I think that God has exhibited us apostles as last of all, like men sentenced to death.



Soldiers in His army.



Jesus equates knowledge of authority with faith.



Luke 7:8,9 - For I am a man set under authority, with soldiers under me: and I say to one 'go' and he goes; and to another 'come' and he comes; and to my slave, 'do this' and he does it. When Jesus heard this He marvelled at him, and turned and said to the multitudes that followed Him, 'I tell you, not even in Israel have I found such faith.'



Paul equates laborer in God's work as a soldier.



Philippians 2:25 - I thought it necessary to send to you Epaphrodites my brother and fellow worker and fellow soldier, and your messenger and minister to my needs.



We are soldiers in Jesus' army.



II Timothy 2:3 - Share in suffering as a good soldier of Jesus Christ. No soldier on service gets entangled in civilian pursuits, since his aim is to satisfy the one enlisted him.


---
E-mail: efi7jld@gmail.com
---
BACK TO: Perfecting of the Saints; Intercession; EFI; THE EDIFIER
---
For the perfecting of the saints, for the work of the ministry, for the edifying of the body of Christ, Ephesians 4:12
---
&copy 1992, Jacqueline L. Davis
WWW &copy 1999, EFI
Created: 7/9/99
Updated: 5/27/2011