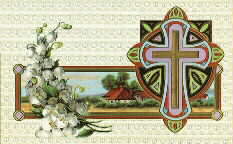 INTERCESSION -
SPIRITUAL WARFARE
INTRODUCTION
---
Revelation 22:17 - And the Spirit and the bride say, Come. And let him that heareth say, Come. And let him that is athirst come. And whosoever will, let him take the water of life freely.



Principle: the Spirit and the bride work together.



Christ's intercession:



Isaiah 53:11,12 - He shall see of the travail of His soul, and be satisfied: by His knowledge shall my righteous servant justify many, for He shall bear their iniquities. Therefore will I divide Him a portion with the great, and He shall divide the spoil with the strong; because He hath poured His soul unto death; and He bare the sin of many, and intercession (6293) for the transgressors.



Intercession - 6293 (only word in Hebrew) - prim. root - to impinge, by accident or violence, by importunity :- come between, cause to entreat, meet together.


Impinge - (to fasten) 1. To strike or dash esp. with a sharp collision, 2. To come into close contact, 3. Encroach, infringe, 4. To cause to strike.


Importune - 1. To press or urge with troublesome persistence, 2. To request or beg for urgently, 3. Annoy, trouble.



Isaiah 53:4,5 - Surely He hath borne our griefs, and carried our sorrows: yet we did esteem Him stricken, smitten of God, and afflicted. But He was wounded for our transgressions, He was bruised for our iniquities: the chastisement of our peace was upon Him: and with His stripes we are healed.



Wounded (pierced, bored) for transgression (rebellion) = strickened - to reach, to touch violently, punish, destroy.


Bruised (crushed) for iniquity (sin) = afflicted - to depress, to pulverize, to make gray, to be dust.


Chastised (restrained) for peace (right relationship with God) = smitten of God - to defile, to strike, to kill.



Isaiah 59:15-17 - Yea truth faileth; and he that departeth from evil maketh himself a prey: and the Lord saw it, and it displeased Him that there was no judgment. And He saw there was no man, and wondered that there was no intercessor: therefore His arm brought salvation unto Him; and His righteousness, it sustained Him. For He put on righteousness as a breastplate, and an helmet of salvation upon His head; and put on the garments of vengeance for clothing, and was clad with zeal as a cloke.


Principle: there was no man intercessor - God sent His Son as intercessor - the bride and the Spirit were not working together, not in agreement yet.



The Spirit's intercession:



Romans 8:26,27 - Likewise the Spirit also helpeth our infirmities: for we know not what we should pray for as we ought: but the Spirit itself maketh intercession (5241) for us with groanings which cannot be uttered. And He that searcheth the hearts knoweth what is the mind of the Spirit, because He maketh intercession (1793) for the saints according to the will of God.


Intercession - 5241 - from 5228+1793 - to intercede in behalf of.



5228 - "over", for the sake of, instead, regarding.


1793 - from 1722+5177 - to chance upon, ie. confer with, to entreat.


1722 - rest.


5177 - to effect, to make ready.



Intercession - 1. The act of interceding: mediation, 2. Prayer, petition, or entreaty in favor of another. syn: interpose.



Syn: interpose, interfere, intervene, mediate, intercede mean to come or go between. Interpose implies no more than this; Interfere implies a getting in the way or otherwise hindering movement, view, or free operation; Intervene may imply an occurring in space or time between two things or a stepping in to halt or settle a quarrel or conflict; Mediate implies intervening between hostile factions or conflicting ideas or principles; Intercede implies acting in behalf of An offender in begging mercy or forgiveness.


Hebrews 7:25 - Wherefore He is able also to save them to the uttermost that come unto God by Him, seeing He ever liveth to make intercession (1793) for them.



The Bride's intercession:



I Timothy 2:1,2 - I exhort therefore, that, first of all, supplications, prayers, intercessions, and giving thanks, be made for all men; For kings, and for all that are in authority; that we may live a quiet and peaceable life in all godliness and honesty.


I Thessalonians 5:8 - But let us, who are of the day, be sober, putting on the breastplate of faith and love; and the helmet, the hope of salvation.


Ephesians 6:10-18 - Finally, my brethren, be strong in the Lord, and in the power of His might. Put on the whole armour of God, that ye may be able to stand against the wiles of the devil. For we wrestle not against flesh and blood, but against principalities, against powers, against rulers of the darkness of this world, against spiritual wickedness in high places. Wherefore take unto you the whole armour of God, that ye may be able to withstand in the evil day, and having done all, to stand. Stand therefore, having your loins girt about with truth, and having on the breastplate of righteousness; And your feet shod with the preparation of the gospel of peace; Above all, taking the shield of faith, wherewith ye shall be able to quench all the fiery darts of the wicked. And take the helmet of salvation, and the sword of the Spirit, which is the word of God. Praying always with all prayer and supplication in the Spirit, and watching thereunto with all perseverance and supplication for all saints;


Principle: the bride is to do the same intercession that the Spirit and Christ do - the Spirit and the bride are to agree - they are to work together to bring in Christ.


---
E-mail: efi7jld@gmail.com
---
BACK TO: Perfecting of the Saints; Intercession; EFI; THE EDIFIER
---
For the perfecting of the saints, for the work of the ministry, for the edifying of the body of Christ, Ephesians 4:12
---
&copy 1992, Jacqueline L. Davis
WWW &copy 1999, EFI
Created: 7/9/99
Updated: 5/27/2011