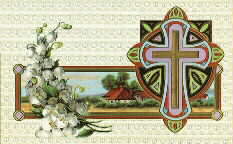 INTERCESSION -
SPIRITUAL WARFARE
INTERCESSOR
---
Intercessor versus prayer warrior.



Intercessors are not prayer warriors.



Prayer warriors can pray for a thing to be done without necessarily being willing for the answer to come through themselves.


Prayer warriors are not bound to continue in prayer until the prayer is answered.


Prayer warriors can pray according to their own thought, desire, whim.



Intercessors:



Intercessors do not ask God to answer prayer through others if it can be answered through them.


Intercessors must gain their objective - not free from prayer until position is gained.


Intercessors must pray as the Holy Spirit guides - not free to pray otherwise - must wait for the Holy Spirit to speak mind of God.



Identifications of intercessors.



Intercessors identify with those whom they pray and intercede for.



Secret of intercession is identification with one prayed for.



Intercessor pleads effectively because he gives his life for those he pleads for.



John 10:11 - The Good Shepherd layeth down His life (psuche) for the sheep.


John 13:34 - A new commandment I give you, that ye love one another, as I have loved you, that ye also love one another.


John 15:13 - Greater love hath no man than this, that a man lay down his life (psuche) for his friends.



Life 5590 - psuche - spirit, heart, life, mind, soul (Vines - page 337 - individual life, the living being).



Intercessor is their genuine representative.


Intercessor has submerged his self interest in their needs and sufferings.


As far as possible he has taken their place.



Jesus took sinner's place as sin-bearer, sickness-bearer, and burden-bearer - intercessor reveals Jesus' love by allowing the Holy Spirit to intercede through him.



Sin-bearer - bruised for iniquity - John's form of intercession - reaping the effect of disobedience to the word - will touch sin and temptation in area of word violation.


Sickness-bearer - chastised for peace - Paul's form of intercession - broken hearted, wounded spirit, physical manifestations - will touch pain, hurt, wounding, and physical symptoms.


Burden-bearer - wounded for transgression - Peter's form of intercession - weakness of flesh, captives and prisoners, will feel heaviness and despair either for demonic involvement or flesh stones, judgments, etc.



Agony in intercession.



Intercessors are living martyrs - one who is willing to give up his life for the Savior's sake.



Romans 12:1 - I beseech you therefore, brethren, by the mercies of God, that ye present your bodies a living sacrifice, holy, acceptable unto God, which is your reasonable service.



Are separated to God.


May be asked to take a Nazorite vow. Judges 16:17, Numbers 6:2-7



Intercessors live a life of hiddenness - must have as much joy in a hidden life as in an open and successful one.


Before intercession comes dealings with self-life - crucifixion of the flesh.



Crucifixion of the flesh produces agony - flesh has a life of its own, it does not want to die and lose control.


Daily path of 'the way of the cross'.



Purpose of intercession on intercessor.



Transforming intercessor into the image of Christ.


Holy Spirit judges thought and intent, attitudes, and actions of intercessor.



The law of intercession - only as far as the intercessor has been tested and proved willing to do a thing can he intercede for others.


The Holy Spirit shares His groanings with us (can cause physical pain) and lives His life of sacrifice through the intercessor.



Authority of intercessor.



Intercession is not a substitute for sin - each sinner must pay own dues.


Intercession so identifies intercessor with the sufferer that it gives him a place of prevailing with God.



Comes as a result of abiding with God.



John 15:7 - If ye abide in Me and my word abide in you, ye shall ask what ye will and it shall be done unto you.



As intercessor continues to abide he becomes aware of the Spirit engaging in spiritual warfare until assurance of victory is gained.


The Holy Spirit never prays in an arbitrary way - but only just as far as the intercessor can become one with Him in prayer.



Gained position of intercession.



Fact of experience either through a cross experience or previous intercessions.


Price of obedience to what the Holy Spirit asked for is paid - intercession fulfilled.



Intercession may involve fasting.



Point of fasting is to bring the body into subjection to the Holy Spirit.


Each fast done in obedience to the Holy Spirit's direction makes the body more equipped to carry intercessions.



Intercession may require some outward identification signs.



The inner wrestlings and groanings take their full course.


The word of the Lord comes.



The Spirit informs intercessor that the intercession has accomplished its purpose.


Authority position over the enemy (flesh or Satan) is gained.



The intercessor speaks the word of deliverance.



Intercessor awaits deliverance in praise and faith.


Spiritually done moment gained.


Physical manifestation can take years to be seen.



New place in grace gained and maintained.



The first fruits of intercession (new positions gained) belong to the Lord and have to go to altar.


Once gained, intercessor can claim all the blessings on that degree of intercession but cannot claim higher blessings.


---
E-mail: efi7jld@gmail.com
---
BACK TO: Perfecting of the Saints; Intercession; EFI; THE EDIFIER
---
For the perfecting of the saints, for the work of the ministry, for the edifying of the body of Christ, Ephesians 4:12
---
&copy 1992, Jacqueline L. Davis
WWW &copy 1999, EFI
Created: 7/9/99
Updated: 5/28/2011