THE EDIFIER
CRAIG GOLDY
This nugget is a four part condensed compilation of several interviews by Jeff and Reeni Fenholt with Craig Goldy on Highway To Heaven, from July, 1994 to January, 1996.
---
Part One - July, 1994
---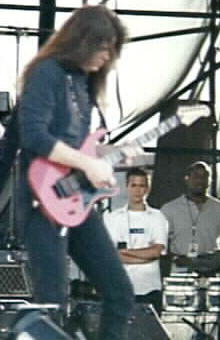 Jeff: We truly are saved. We've truly been washed in the blood. I've been delivered out of some pretty heavy garbage. And I'm glad that I've been. That I have my feet on the Rock that doesn't have slippery moss on it. And I'm not on some kind of rock that's here today and gone tomorrow. I'm on the rock of salvation. The Word of God says in Psalm 61, Here my cry, oh God. Attend unto my prayer. (In other words, listen to my prayer.) From the ends of the earth, will I cry unto Thee. When my heart is overwhelmed, lead me to the Rock that is higher than I. You say, 'What rock?' The Rock of salvation - Jesus is the rock. For Thou hast been a shelter for me. And a strong tower from the enemy. You got problems. Some of you have probably run away from home. Some of you, right now, you're probably young men, young women, that are selling yourselves. Maybe you're selling your body; maybe you're just selling out. But I can tell you, right now, there is a God who loves you. The Word of God says in Psalm 61:8, So will I sing praise to Thy name forever, that I may daily perform my vows. There's probably musicians (I've got a musician friend of mine on here with Reeni and myself today), probably people that are out there performing and playing music. Well the Word of God says, I'm going to sing my praises unto Thy name, that I may daily perform my vows. (My promises, if you will.) Have you promised your talent to God? If you haven't promised your talent to God, I'll gaurantee you and your talent are going no where in terms of seeing anything appreciable really happen in your life. I don't care how successful you are. I live out here in Los Angeles (California), Reeni and I do; our guest lives in Hollywood (California). We go out to dinner and we see all these people. You walk into a restaurant and you see the top film producers, the top people coming in and out. Some are full of arrogance. Some are just regular, seems like, people and are friendly. But, you know, the truth of the matter is that all the things, the best things, that we can do really don't mean anything, unless it's to help bring someone to life. And that means eternal life in Jesus. What do you have to say for that Ree?
Reeni: Well, you know, in the Bible it says in Romans 5 that, As by one man sin entered into the world. (Which we know it was Adam.) And death by sin. (So we all know what death is. And that's why we experience death, is because of the sin that entered into the world through Adam.) And the Bible says, it says, Death passed on all men, for that all have sinned. (Everybody has sinned.) All have sinned and come short of the glory of God. For the wages of sin is death. But the gift of God is eternal life through Jesus Christ our Lord. And God commands His love toward us, in that, while we were yet sinners Christ died for us. While we were yet sinners. So we give our hearts to Jesus Christ. That's all you have to do. Right where you are, just give your heart to Jesus, and you'll have eternal life.
Jeff: Lead me to the Rock that is higher than I. We have a guest with us today, who's a friend of mine. We've been friends for quite a number of years now, since he was a kid. We were actually in a band together for about six months, or a year, or whatever it was. And this guy, Craig Goldy, has been the lead guitarist for Ronnie Dio, for Dio's album. He did a wonderful album called Dream Evil. :) And he was on the Monsters Of Rock Tour. He's done all these kinds of tours. He's worked with, I guess, written songs for Van Halen and Gia Friea. He's toured and opened for Deep Purple. I don't know all the different people that he's worked with, but he's done films, songs for film scores; and had an aweful lot of success out there, things that aren't even in his bio that I'm aware of. He's been voted as one of the ten top heavy metal guitarists. But there have been some changes going on in Goldy's life. :) And I'd like to welcome you here with us today. Praise God. Praise God. Good to see you here, brother. Well, you look good, but you've always looked good. I mean, you've always been out there just kinda 'rock'n'rollin'. But, what happened? You were like, I guess, you knew the Lord when you were a kid, didn't ya?
Craig: When I was in seventh grade, in woodshop.
Jeff: Woodshop? Chippin' wood in there? :)
Craig: There was a teacher there who was just a great guy. And he was telling me about christian rock. And so, we went to his church in San Diego (California), called Calvary Chapel.
Jeff: Yeah, good church.
Craig: And it was really making some noise back then in San Diego.
Jeff: Were you playing rock music?
Craig: Yeah.
Jeff: Is that what kinda of drew you in or was it just this guy?
Craig: Well, I liked him. And I always believed in God. And so I was not even remotely afraid or ashamed to go to a christian meeting. Although my friends were making fun of me, you know, I'm used to being made fun of, so that just went off one shoulder onto the floor. But it was then that I realized, although I believed in God and always knew about Jesus, I wasn't aware that there was a particular kind of process to tap in and become a part of the spirit and the love of God in Jesus. I just wasn't aware of that. I didn't know there was something you could do.
Jeff: By 'tapping in' you mean you just thought Jesus was Lord, but you didn't know you could actually have a relationship with Him?
Craig: I knew I could have a relationship with Him, but I didn't know that once you wanted to let go of the worldly or material types of yearnings (lusts and drugs and things like that), that there was a time to get rid of those things. And then you give your whole being, your soul and your heart, and everything that you have to God, to Jesus. The way it was explained to me was that, basically, that if this world were a business, God is the boss. And if you want a promotion, you go hang and smooze with the boss. :) If you want job security. In a way, that's a very neanderthal way of looking at it.
Jeff: Did you go and do that? Did you go forward and pray? And actually accept Jesus into your life?
Craig: Absolutely. I stood up. They asked people to stand up that wanted to accept Jesus and be saved.
Jeff: You were already playing rock'n'roll then?
Craig: Oh yeah.
Jeff: You started really getting into guitar about thirteen.
Craig: Thirteen, yeah.
Jeff: I remember that, yeah. So, when you went and gave your heart to the Lord, did fireworks go off or some kinda weird thing; or did you just start feeling more steady?
Craig: I completely changed.
Jeff: What changed?
Craig: Everything. I stopped playing houseparties and started trying to put a christian band together. And I lost almost everyone of my friends at the time. Some of the friends that I lost, we have recently gotten back together. I went so 'gun-ho' that I ended up turning off some of the people I had been friends with. And, in a way, that's kinda why I'm here today.
Jeff: By 'gun-ho' does that mean you just weren't, maybe, showing alot of wisdom in the way you were doing it? Because you're probably as 'gun-ho' or more 'gun-ho' now. 'Cause when you first get saved, you're like a puppy. You're out there lickin' everybody, snoopin' and lickin', you need Jesus.
Craig: That had to be it.
Jeff: Well, then, did you notice any change in your guitar playing or music? Did it seem, did you seem to feel, an anointing at that point in your life? You know what I mean by the word 'anointing'?
Craig: Absolutely. I felt that I suddenly had a purpose in life that was for an ultimate good or ultimate goal in life to help people. 'Cause I always wanted to help people. But the rock'n'roll life is so self-oriented. That I felt, in a way, a tug of war internally, until I became a Christian and got saved. At that point in my life, I felt the tug of war had gone, had disappeared. I was aware I could use my talent and actually help people, in the best way you could possibly help people, with their soul, their spirit.
Jeff: The music seems to really pierce through, doesn't it? It can really hit people.
Craig: Absolutely. It's one of the most powerful forms of communication that we have.
Reeni: So, did you stay 'gun-ho'?
Craig: For a while. For a while I did. And then I guess I got selfish. I did get selfish!
Jeff: You started seeing success or seeing you could have success? So, what happened?
Craig: Yeah. I fell right into it and got seduced by it. Actually, at that point, if I hadn't had enough signs, I was living in a car on the streets. The car wasn't even mine. It was my girlfriend's at the time. Which goes with that joke: What do you call a musician without a girlfriend? Homeless. :)
Jeff: Pretty good. I never heard that one. So: How can you tell if your stage is level? If your drummer is drooling out of both sides of his mouth. :) No, we've got to stop this. We've got to bring this back - whew - alright. :)
Craig: So, I was living in a car on the streets. No amp. No money. No nothing, just a guitar. And I was just so frustrated. I knew that I was talented enough. And I prayed. And what did I pray - that I could get out of this situation. But my prayers weren't exactly specific enough. Not that they needed to be, because He knew my heart.
Jeff: Were you continuing in a church?
Craig: Yeah. I was in a Baptist church. I went to an all black church. I was the only white member. I loved every second of it. Went to church all the time, except when I was in the car, that is.
Jeff: So you were in a church? Did you join this all black church, you were talking about, because of the music? Was it really cranking?
Craig: No. It was a friend in high school. My friend, you see I loved Bill Cosby and I was raised in a good home - no prejudice. I loved Bill Cosby, so any black guy, I loved. I didn't care who they were, I just loved them, 'cause of Bill Cosby.
Jeff: So, if you look like Bill Cosby, you have a place. :) Bill, we want to hear from you soon. Give us a call, we'll all have dinner. :)
Craig: So, we started a Bible study group in high school. And we were told to stop.
Jeff: In the school?
Craig: Yeah. At lunch time. Then the principal of the school said that we could congregate under his window. He protected us, 'cause he was a christian.
Jeff: Really?
Craig: Yeah.
Reeni: See, that would have been a case for Jay Sekulow.
Jeff: So, where did it start going from there?
Craig: We lost touch. I was playing guitar all the time. Some friends of mine liked the way I was playing guitar. I did things differently then other people. So, word got around. One guy ended up getting an audition in Los Angeles. Then he got hooked up with some people who were in a band that was produced by Ronnie James Dio, and managed by his wife.
Jeff: Is that Rough Cut? I remember them.
Craig: Yeah. The guitar player from Ozzy Osbourne died in a helicopter crash.
Jeff: Yeah. He was Randy Rhodes. He was working with the bass player and drummer we wound up with.
Craig: Ruddy and Tommy, that we had a band with.
Jeff: At that time with Ozzy. That's wild.
Craig: So, it just all worked together. The guitar player from Rough Cut replaced him. Then there was an opening there. My friend ended up knowing them. So, I sent a tape up to them that they asked for. I got the audition. I got the gig. And that's how the whole thing started. When I was on the road with Dio I had opportunities to witness. Deep down in my heart I wanted to play for God and be able to help people who don't understand God. And try to explain to them, as far as rock'n'roll and heavy metal mentality, they do understand God. And alot of them believe in God. But they often get approached the traditional way and it repells them. One time I was on tour. And as usual, you know this, you go to the bars and have a few drinks. Everybody is around and wants autographs.
Jeff: I'm not doing that these days, but... :)
Craig: You've had that. You know what that's like.
Jeff: In my old days. Yeah.
Craig: Well, I didn't want to say the old days, 'cause you're not old. But... :) Any way, I was just sitting at the bar, having a drink. And this guy comes up to me. He just wants to talk, you know, about guitar and things like that. He wanted to know if I wanted to do some drugs. And if we could go up to my hotel room. I said, 'No'. And he was kinda like, 'Oh, well. Well, I really didn't want to anyway.' You know. They're so used to going to the clubs; going to the hotel bar after a show or before a show. And they meet these guys who go and do drugs in the hotel rooms. Maybe they go to a couple of bars where girls take their clothes off. And then there's sex and this and that. They're so used to that. It's not like they don't have a choice. It's just that they never have been offered a choice by somebody like them.
Jeff: I don't know if you remember the night we were working together. And we went with some friends to the bar. We were hanging out. And we heard that one of them was in the back buying some cocaine. And I went in the back and dragged him out of there. I almost got thumped by the bouncers. Do you remember that?
Craig: Yeah. The guy, we won't name, thanked you the next day.
Jeff: No. We're not going to name names here. A well known person. Well, anyway, he thanked me the next day. But, then, he went out and brought 'coc' the next week. You know, musicians are, I just have kind of a phrase where I say, 'If they're not locked up, they become musicians.' :) You know, seems like there's just so much unsteadiness in the music scene.
A lot of people think, 'What do I have to do to follow the Lord?' There was a lawyer who asked Jesus, What is the greatest commandment in the Law? For those of you who think you've got to live by the Law, or you've got to live by the letter of the Law. Jesus didn't come to take away your fun. He came to take away your pain. If you look to where the drugs lead, you can maybe get a grasp of what the Lord's trying to do to you or for you. I talked to a friend of mine from, well I'm not going to name the group, a big group. And I talked to him about drugs. He said, 'Well, I'm just having a good time where I am right now.' And I said, 'Well, maybe you're having a good time where you are right now, but you'd better check the exit sign, where your jump off point is.' When the lawyer asked Jesus, What's the greatest commandment in the Law? Jesus said, Thou shalt love the Lord thy God, with all thy heart, with all thy soul, with all thy mind, and with all thy strength. This is the first and the greatest commandment. You need to love God. We need to really give our hearts to the Lord Jesus. You know, Goldy, I'm really glad that God has never dropped you, the way people drop people. You know what I mean? He's never dropped me. You know. You've gone through your phases or your things. You've gone through your drug phases, your drink phases, your crazy phase here and there. And you've played. You were talking about wanting to to play things for people and get the message out. But the course you've been through and I've done it too, where we yoked with people who were into demon worship. And then we wonder why certain things don't work out quite the way we wanted them to. In the Bible Jesus said, very, very clearly, that we are not to deny Him. In the book of Matthew, chapter 10 verse 32, Jesus says, If you'll confess Me before men, I'll confess you before the Father. Praise God.
Part Two - July, 1994
Part Three - December, 1994
Part Four- January, 1996
Photographer, David Dadourian, August, 1995
---
Back To The Table Of Contents
---
FOR THE EDIFYING OF THE BODY OF CHRIST EPHESIANS 4:12c
---
efi7jld@gmail.com
&copy 1996, The Elijah Fellowship International
Updated: May 23, 2011
Created: 10/12/96