THE EDIFIER
CRAIG GOLDY
This nugget is a four part condensed compilation of several interviews by Jeff and Reeni Fenholt with Craig Goldy on Highway To Heaven, from July, 1994 to January, 1996.
---
Part Three - December, 1994
---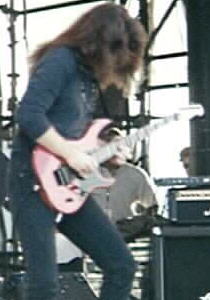 Jeff: Actually, you were not raised as a Christian. But you gave your heart to the Lord when you were about 15, didn't you?
Craig: Yes, in seventh grade. My grandmother would actually talk to me about God and Jesus alot. She was really optomistic about that. And would talk to me, 'Well, if you feel happy that is because God made us happy, because we're doing the right thing. We're loved, and we love others. And that's what makes us happy. That's God.' I learned my belief from there and optimism from my grandmother. And then I got saved in seventh grade. And backslide all the way. Every now and then, I'd go straight forward. I'd quit a band and go straight into it. And everybody would be going, 'Oh, man. Is he doing that again?' It was on/off, on/off.
Reeni: So you were fifteen in seventh grade? :)
Craig: Well, whatever age I was in seventh grade. :) That's pretty bad, isn't it? Because I graduated at 17. Yeah, I was 15. :) You can tell I'm great in math.
Jeff: Did you feel the presence of the Lord on your music and in your guitar ability?
Craig: Only when I was alone. Not really in bands, except when you and I were in a band together. Because we would talk about God and stuff. And I kind of felt a tug because of what you were doing with Nicky Cruz. I'm kind of in the same situation that you were in then, now. But I never really felt a real closeness with God with my music unless I was alone. Because then I didn't have any distractions of other people's agendas, other than what God had for me.
Jeff: You know, I never shared this really. But, you know, when I was in Black Sabbath, there making the album. I really was not getting along with Tony Iomi and with those guys. You know that. We weren't getting along at all. And they're involved in occult darkness. He said that in the press, so I'm not revealing any great secret. But what really got me into going with the Lord was after I jumped ship from Sabbath. We got together, started working on our album. I really loved you then, and Ruddy and Tommy, and all of us together. And yet something still in my own personal life, it had nothing to do with the band, something was missing. And I got to thinking about it. I thought, 'If I'm working with Goldy, who I love like a brother, and who also I knew down deep loved God.' (Even though we kind of weren't serving Him.) I thought, 'If even this isn't happening for me inside. If there's still something missing. I guess I just have got to make a break and go with the Lord.'
Craig: I'm glad you did.
Jeff: Well, I'm glad I did too. I'm glad you have.
Craig: You've helped me where I'm at now.
Jeff: Well, where are you at?
Craig: Well, to be honest with you. I'm glad you read that one passage first. Because that was the reason for my dry desert.
Jeff: Which one?
Reeni: Psalm 32.
Craig: For a while there things would really start happening. Because I really thought that's what playing for God meant. Being in Dio; and going out and playing in front of a bunch of people; and getting a name for yourself; where people would be excited to talk to you; because of who you are in the world. And then when they're at a bar saying, 'Hey, do you want to do some drugs?' And then it gets to the conversation of God. And I would really be able to lead them to God; or introduce them to God; or maybe they got saved right then and there. And that's what I really thought the purpose of my life was. But then that was my way. What's happening now is that dry desert of the last four years. I got myself into a relationship where money was number one. And that's just not how things ever worked with me. Even when I was doing my own agenda, and I thought I was doing something for God, atleast things would come my way because my heart was there. But even then, I was missing something like you were talking about, with Driver.
Jeff: Did you feel you were compromising your music, too? Even when you've been successful with things you're working on at present?
Craig: It just didn't seem right because all these people completely strung-out on drugs and beating each other up. We were headlining Madison Square Garden, the biggest night of my life. And people were throwing fireworks and firecrackers at each other, and blowing holes in each other's legs and stuff. It is like, this is not right, you know. And, the day I got down on my knees and said, 'Look, I've played. I've done this album. I've done this. I've done that. But I just don't feel right.' You know. And I got down on my knees and I said, 'God, what do You want me to do?' I was tired of trying to come up with it myself. 'Cause, even though things were great. We were headlining Madison Square Garden, playing in front of 80,000 people. Co-headlining with Eddie Van Halen. Eddie did an interview on MTV about me, saying, 'He's the next greatest.' It felt good, but it still felt like there was something - like I was misbehaving. :)
Jeff: Misbehaving?
Craig: Yeah. You know that feeling you get when you know you're having fun, but if your mom and dad knew....
Jeff: Yeah. You can even still get it today. :)
Reeni: If your mom and dad caught you, you'd be in big trouble.
Craig: That's the feeling I got. Like I was misbehaving. :) But I was getting away with it.
Jeff: Yeah, right. Yeah, so we think.
Craig: So I had this big dry spell, because money was number one. Trying to make money. Money, money, money. Before it was God, and Jesus was number one. Then I do what I believe in. And then I do it well enough to be considered above others. And then I got paid for it.
Jeff: But you were backsliding all through this stuff, too. You said you were going in and out.
Craig: But atleast I was thinking God was number one. Things were starting to lead me in a different direction. And then I got into a relationship, where I started allowing the other people's agendas to be my own. Allowed myself to be that way. So money wasn't it. Nothing ever cured what I needed. Until I got down on my knees and said, 'God, Jesus, what do you want me to do? I don't care. I'll go and dig ditches in Africa for water irrigation, for people to have running water. I don't care.' So then, about a week later, I got a call from a girl saying that Jeff wanted to get a hold of me. So, I got your number and called you.
Jeff: You know what happened? I guess I shouldn't name the name, but a big management company that you had worked with....
Craig: Wanted to get hold of you for Children Of The Night.
Jeff: Wanted to get hold of me for some kinda thing. Yeah. And then I called them back. I knew that they had managed your thing.
Craig: Is that how it started? I wasn't sure how it started.
Jeff: Your thing with Dio and some of this other stuff. And so I wound up speaking with the management. I said, 'Listen, I want to connect with Craig.' It's amazing.
Craig: I'm so glad we got in touch again, 'cause we were really close. I loved you. You were like a brother to me too, when we were in Driver. We were real close. And I missed you, man. I missed it. And now it just all feels real good.
Jeff: We had some silly times. There was some silly stuff that went on back then, too. It was really funny. But you know, the Word of God says, For who is God other than the Lord. There is no other Lord and Savoir but Jesus. And who is a rock, save our God?
Craig: 'Cause I tell people there's a lot of people that just don't get it. They've got houses; they've got families; they've got children; they've got a cabin in the mountains; they've got money; they've got time and fun.
Jeff: Sounds like us. :)
Craig: They still don't, they're still not fulfilled. They don't understand that their material world is full; but they're spiritual world is completely dry and empty. And I tell them, you didn't read your owner's material.
Jeff: Amen.
Craig: They go, 'What are you talking about?' I go, 'When you go and buy a VCR, you get an owner's manual to tell you how to run that thing so it gets the best quality out of it. You buy a car, it tells you to change the oil every 3,000 miles. You get the best usuage out of that car. You get born-again, you get the Bible, basic intruction before leaving earth. :) That's your owner's manual for life.
Jeff: Amen. That's it. Psalm 100 says, Make a joyful noise unto the Lord all ye lands. Serve the Lord with gladness. Come before His presence with singing. Know ye that the Lord, He is God. It is He that has made us... And your talent, your rock'n'roll talent, you long haired person. :) And not we ourselves. We are His people and the sheep of His pastures. Enter into His gates with thanksgiving and into His courts with praise. Be thankful unto Him. And bless His holy name. For the Lord is good. His mercy is everlasting. And His truth endureth to all generations.
Part One - July, 1994
Part Two - July, 1994
Part Four- January, 1996
Photographer, David Dadourian, August, 1995
---
Back To The Table Of Contents
---
FOR THE EDIFYING OF THE BODY OF CHRIST EPHESIANS 4:12c
---
efi7jld@gmail.com
&copy 1996, The Elijah Fellowship International
Updated: May 23, 2011
Created: 10/12/96